Concert review by Robin Gregory:
For those who, like me, love good singing and drama, Eastbourne has been well-served recently. One evening brought EODS to the Devonshire Park in an excellent production of My Fair Lady, and less than 24 hours later (on Saturday November 11th) I was at All Saints Church for Brahms's moving German Requiem.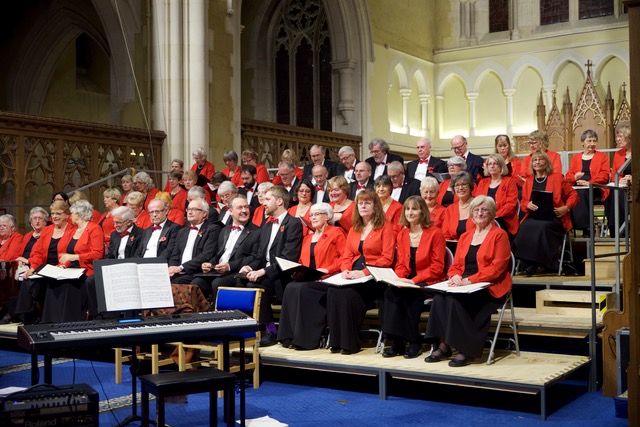 Hailsham Choral's conductor and director of music Jozik Kotz is a master when it comes to planning a programme which fits a particular date, and on this occasion he linked the 99th anniversary of the Armistice (which ended the Great War) with a remembrance of Brian Maskell, one of the choir's stalwarts who died in July. He made the brave decision to do the Requiem in Brahms's own arrangement for two pianos, and I was interested to see if this master-work was as masterful when deprived of the composer's string-writing. In the event the loss of strings was proved to be balanced by an extra clarity which enabled the choir itself to become the focus of attention.
From the moment the choir appeared, to sing Douglas Guest's short "For the Fallen", the singers caught the eye by their admirable turn-out: men in D.J's with red bow-ties, ladies in black with matching red jackets. And they sang wonderfully, from the quietest pianissimo to a blazing forte.
Pianists Will Hancox and Colin Hughes have well-deserved reputations way beyond Sussex, and delivered the goods with both panache and reverence. Before they embarked on the main work of the evening, they gave us Rachmaninov's Romance from his Suite for Two Pianos, which seemed to gain from the subtle difference in sound between Will's Grand and Colin's electronic instrument.
The two soloists in the Requiem were ideal choices for their parts. Noa Lachman now lives locally, but came with an established reputation as a lyric soprano, while baritone Andrew Rupp has even been a soloist at the Last Night of the Proms. Not surprisingly they could soar above the choir as needs be.
Congratulations are due to whoever compiled the detailed and informative illustrated 16‑page Programme which reminded us that the Hailsham Choral Society will be back at All Saints on March 17th with Bach's St John Passion, and a baroque orchestra.