Our 55th Year !!!
You can find references to a choral group in Hailsham from the early 1930s, but it faded from view during the war - they probably had even more troubles recruiting tenors and basses then! The present Society was founded in 1961, so we are now in our 55th year and still going from strength to strength.
Our next concert
We are very excited by our next concert which includes some of the finest choral music ever written.
The main item in the evening's programme is Vaughan Williams' Five Mystical Songs - a beautiful and sensitive setting of George Herbert's deeply felt poems for choir and baritone soloist.
The programme also includes some of the best examples of sacred choral music from continental Europe from the sixteenth to twentieth centuries and we can't wait to perform them in the acoustics of All Saints Church.
Vaughan Williams:
Five Mystical Songs &
European Sacred Music
Conductor
Jozik Kotz
Soloist
Daniel Jordan
Accompanist
Colin Hughes

Saturday 12th November 2016
7.30pm
All Saints Church
Grange Road
Eastbourne
Adults £12.00
Under-16s £6.00
Tickets
Eastbourne Tourist Office
Camera Centre, Hailsham
and on the door
Some of the composers like Mozart and Tchaikovsky will be familiar but others might be less so and we think you are in for a treat. (And no, that's not a spelling mistake on our poster; we really are singing a work by Handl !). Items include:
Bruckner - Christus factus est
Bruckner - Os justi
Buxtehude - Magnificat
Gabrieli - Jubilate Deo
Handl - Pater noster
Handel - Zadok the Priest
Lassus - Ave verum Corpus

Lotti - Crucifixus a 8
Monteverdi - Cantante Domino
Mozart - Ave verum Corpus
Rachmaninov - Bogoroditsye Dyevo (Ave Maria)
Stravinsky - Ave Maria
Tchaikovsky - Dostoino yest (Hymn to the Virgin)
Highlights include a performance of Lotti's eight-part Crucifixus, an amazing piece of music to which the over-used term masterpiece can rightly be applied; and Rachmaninov's gorgeous Bogoroditsye Dyevo.
The concert will also include Handel's famous Zadok the Priest, a splendid anthem which has been performed at every British coronation since, an achievement unmatched by any other work; and a Bach aria sung by our soloist, Daniel Jordan.
Concert Review by Robin Gregory : Check out the 'News' page
HAYDN AND MOZART IMPRESS : FULL-HOUSE AT ALL SAINTS
ROBIN GREGORY reviews Hailsham Choral Society's performance of two great works .... Read more


About us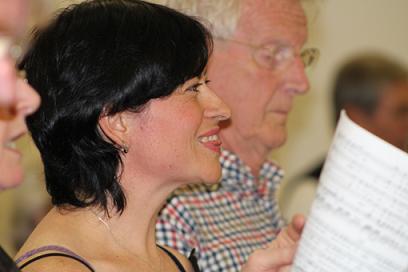 We are a choir of about 65 singers based in Hailsham, East Sussex.
We perform at least four main concerts during the year, with programmes featuring anything from Bach (Christmas Oratorio, St. John Passion) to Beatles, Rossini (Petite Messe Solennelle) to Gershwin, Rutter (Requiem, Magnificat, carols) to Rogers and Hart.
We're a sociable lot too, music workshops, coffee mornings, quizzes, even the odd pint of beer or glass of wine (or two)!
If you're looking for a fast way to increase your circle of friends, as well as an opportunity to sing hugely enjoyable music go to the 'Join Us' page.
This website is maintained by Graham Keeley; please get in touch if you have a comment or an issue to report.