Robin Gregory reviews our Spring concert
"Jozik Kotz ... has been Musical Director of Hailsham Choral Society for more than a decade. His choir is, by now, undoubtedly one of the finest in this area; and a double-dose of Handel at All Saints Church on March 25th certainly bore out this judgment."
Next concert: Brahms Requiem - Saturday 11th November 2017
Our next big concert will be a performance of Brahms' German Requiem in the composer's own two-piano arrangement. Join us to hear one of Brahms' acclaimed masterpieces and the work which made him internationally famous.
Conductor
Jozik Kotz
Piano
Colin Hughes
William Hancox
Soloists
Noa Lachman (soprano)
Andrew Rupp (baritone)
Saturday 11th November 2017
7.30pm
All Saints Church
Grange Road
Eastbourne
Rehearsals start after the summer break, on Thursday 7th September. Please see here if you are interested in joining the choir.
About us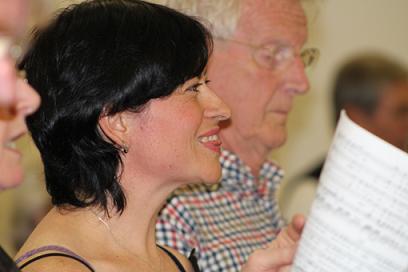 We are a choir of about 65 singers based in Hailsham, East Sussex.
We perform at least four main concerts during the year, with programmes featuring anything from Bach (Christmas Oratorio, St. John Passion) to Beatles, Rossini (Petite Messe Solennelle) to Gershwin, Rutter (Requiem, Magnificat, carols) to Rogers and Hart.
We're a sociable lot too, music workshops, coffee mornings, quizzes, even the odd pint of beer or glass of wine (or two)!
If you're looking for a fast way to increase your circle of friends, as well as an opportunity to sing hugely enjoyable music go to the 'Join Us' page.
Our 56th Year !!!
You can find references to a choral group in Hailsham from the early 1930s, but it faded from view during the war - they probably had even more troubles recruiting tenors and basses then! The present Society was founded in 1961, so we are now in our 56th year and still going from strength to strength.
Thank You
This website is maintained by Simon Marsden; please get in touch if you have a comment or an issue to report.