Our 55th Year !!!
You can find references to a choral group in Hailsham from the early 1930s, but it faded from view during the war - they probably had even more troubles recruiting tenors and basses then! The present Society was founded in 1961, so we are now in our 55th year and still going from strength to strength.
Our next concert : St Nicolas Church, Pevensey : Saturday 11th June
This concert will feature the world première performance of an especially composed six part Cantata - 'The True St Nicolas', to celebrate the 800th anniversary of St Nicolas church, Pevensey. The piece has been composed by Ruth Kenward and Martin Neill for the 60 combined voices of Hailsham Choral Society, celebrating its 55th anniversary,and children from Pevensey and Westham School.
As a contrast, Haydn's joyful 'St Nicolas Mass' ('Missa Sancti Nicolai'), composed around 1772, some 550 years after St. Nicolas church was built, will be sung, together with some additional 'lighter' pieces.
Haydn - St Nicolas Mass
'The True St Nicolas Cantata'
Ruth Kenward & Martin Neill
Conductor
Jozik Kotz
Organ
Colin Hughes

Sat. 11th June 2016
7.00pm
St Nicolas Church
Church Lane
Pevensey BN24 5LB
Adults £10.00
Under 16's £5.00
Tickets
Tel : 01424 216651
(Mon - Fri : 9am - 6pm)
and on the door
Summer concert : Love Stories told in song : Sunday July 3rd - 3.00pm
From madrigals to musicals, join us for a summer afternoon of romance. Elgar, Tchaikovsky, Jerome Kern, Rodgers & Hart, Cole Porter and many more.
Love Stories Told In Song
From 16th to 20th Century
Conductors
Jozik Kotz and Barbara Edwards
Accompanist
Colin Hughes

Sunday 3rd July 2016
3.00pm
Civic Community Hall

Vicarage Road
Hailsham
Adults £10.00
Under 16's £5.00
Tickets
Hailsham Camera Centre,
and on the door
Concert Review by Robin Gregory : Check out the 'News' page
HAYDN AND MOZART IMPRESS : FULL-HOUSE AT ALL SAINTS
ROBIN GREGORY reviews Hailsham Choral Society's performance of two great works .... Read more


About us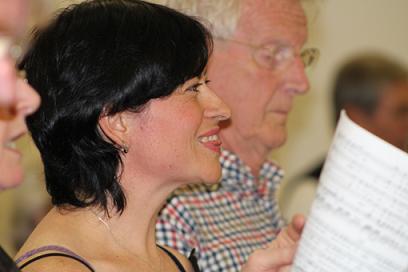 We are a choir of about 60 singers based in Hailsham, East Sussex.
We perform at least four main concerts during the year, with programmes featuring anything from Bach (Christmas Oratorio, St. John Passion) to Beatles, Rossini (Petite Messe Solennelle) to Gershwin, Rutter (Requiem, Magnificat, carols) to Rogers and Hart.
We're a sociable lot too, music workshops, coffee mornings, quizzes, even the odd pint of beer or glass of wine (or two)!
If you're looking for a fast way to increase your circle of friends, as well as an opportunity to sing hugely enjoyable music go to the 'Join Us' page.
This website is maintained by Graham Keeley; please get in touch if you have a comment or an issue to report.