Robin Gregory reviews our Autumn concert
"From the moment the choir appeared, to sing Douglas Guest's short "For the Fallen", the singers caught the eye by their admirable turn-out: men in D.J's with red bow-ties, ladies in black with matching red jackets. And they sang wonderfully, from the quietest pianissimo to a blazing forte."
Next concert: An A-Z of Christmas Carols - Thursday 21st December
Join us for our popular carol concert, a perfect way to get in the Christmas spirit. The theme for this year's concert is An A-Z of Christmas Carols and this year we're performing in Hailsham Parish Church (note change of venue).
As usual we have selected a charity to support with a retiring collection, and this year we're delighted to welcome The Orpheus Centre Trust who work with young disabled adults with a passion for the performing arts.
Thursday 21st December
7.30pm
Hailsham Parish Church
Vicarage Road
Hailsham
Conductor
Barbara Edwards
Piano
Colin Hughes
Adults £10.00
Under-16s £5.00
Tickets
Camera Centre, Hailsham
wegottickets.com
and on the door
This year's poster design is based on a lovely A-Z Christmas tapestry made by choir member Jenny Clay. We thought you might be interested in seeing the whole work (Click on the image below for a larger version). Jenny writes that it's originally from a design in a magazine and will eventually be given to her granddaughter Rachel in America.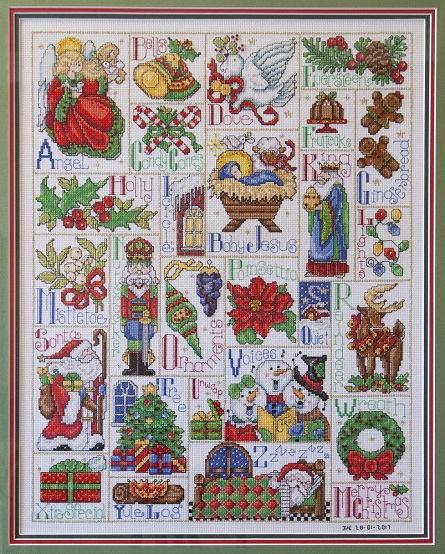 About us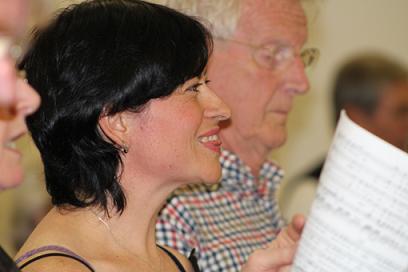 We are a choir of about 65 singers based in Hailsham, East Sussex.
We perform at least four main concerts during the year, with programmes featuring anything from Bach (Christmas Oratorio, St. John Passion) to Beatles, Rossini (Petite Messe Solennelle) to Gershwin, Rutter (Requiem, Magnificat, carols) to Rogers and Hart.
We're a sociable lot too, music workshops, coffee mornings, quizzes, even the odd pint of beer or glass of wine (or two)!
If you're looking for a fast way to increase your circle of friends, as well as an opportunity to sing hugely enjoyable music go to the 'Join Us' page.
Our 57th Year !!!
You can find references to a choral group in Hailsham from the early 1930s, but it faded from view during the war - they probably had even more troubles recruiting tenors and basses then! The present Society was founded in 1961, so we are now in our 57th year and still going from strength to strength.
Thank You
This website is maintained by Simon Marsden; please get in touch if you have a comment or an issue to report.